REALISING RISE HOMES' VISION OF TWO SUSTAINABILITY FOCUSED BUILD TO RENT DEVELOPMENTS
Build To Rent | The Mailbox, Greater Manchester
How we worked with a sustainability focused developer to create two eco-friendly BTR schemes across Greater Manchester
Greater Manchester is renowned for many things, its culture, rich heritage and resilience. It is now rapidly becoming known for its growth and insight as it further embraces BTR and forges a new path for the rental sector.
We worked with RISE Homes Ltd to deliver Stockport's first BTR scheme, The Mailbox: an urban village consisting of 117 apartments built on the historic site of the former Royal Mills sorting office, surrounding a stunning atrium. Complete with a unique and vivid biophilic 18m- high living wall that covers part of all four elevations and further adds to the buildings character and purpose.
We further collaborated with RISE Homes Ltd to deliver another sustainable BTR project in central Manchester, The Depot. This time creating an enticing selection of show apartments aimed at the young family and young professionals' market. We created a selection of spaces that perfectly balanced comfort and style, complete with a variation of carefully curated contemporary pieces.
As The Mailbox was Stockport's' first BTR scheme, it set a benchmark for the standard of enhanced living expected from a BTR. We needed procure and supply furniture and accessories that matched the aspiration of the scheme and elevated it further.
We curated the furniture for the one and two bedroom apartments to be sympathetic to the building's surroundings but also strike a contemporary and modern tone to suit the aesthetic for a young professional market.
Keeping to a subtle colour palette of smoky greys and deep greens, we offset the colours with polished black woodgrain textures and metal finishes to give the right balance of colour, texture and material.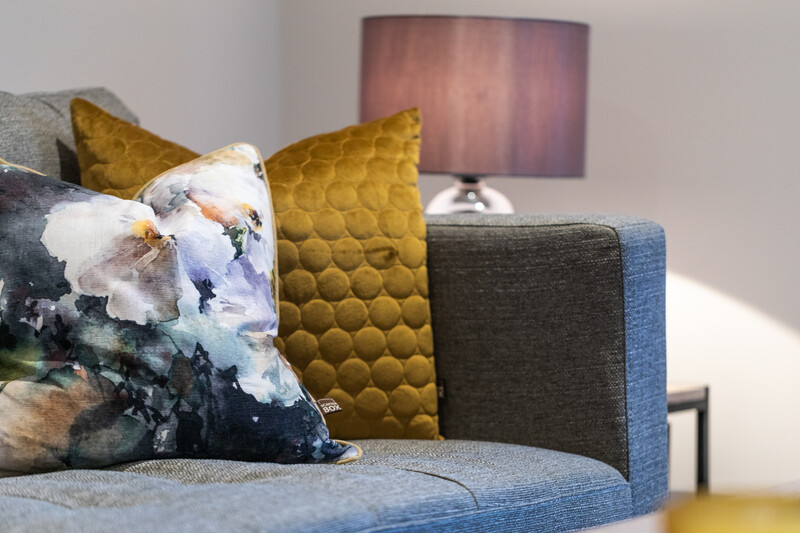 We were conscious to reflect the premium amenities on offer from the The Mailbox through the departments, as living in a BTR is a holistic experience that should flow seamlessly throughout the building.
In 2020, The Mailbox was awarded Best Residential Renovation/Redevelopment in Greater Manchester through the United Kingdom Property Awards. This award was a testament to the impact a BTR development can have and also the impact the LOFT touch can have on a project.